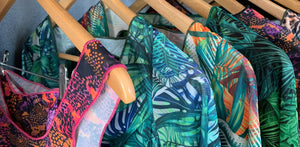 THE SWIMSUIT
| | Bust | Waist | Length |
| --- | --- | --- | --- |
| XS (6-8) | 34.5 | 55.5 | 68 |
| S (8-10) | 37.5 | 61.5 | 70 |
| M(10-12) | 40.5 | 67.5 | 72 |
| L (12-14) | 43.5 | 73.5 | 74 |
| XL (14-16) | 46.5 | 79.5 | 76 |
THE BODYSUIT & FITTED SWIMSUIT
| | Bust | Waist | Length |
| --- | --- | --- | --- |
| S (8-10) | 34 | 63 | 72 |
| M(10-12) | 37 | 69 | 73.5 |
| L(12-14) | 40 | 75 | 75 |
| XL(14-16) | 43 | 81 | 76.5 |
| XXL(16-18) | 46 | 87 | 78 |
THE HALTERNECK
| | Bust | Waist | Length |
| --- | --- | --- | --- |
| XS (6-8) | 33 | 59.5 | 82 |
| S (8-10) | 36 | 65.5 | 83 |
| M (10-12) | 39 | 71.5 | 84 |
| L (12-14) | 42 | 77.5 | 85 |
| XL (14-16) | 45 | 83.5 | 86 |
| XXL (16-18) | 48 | 89.5 | 87 |
| XXXL (18-20) | 51 | 95.5 | 88 |
CROP TOP BIKINI & BANDEAU TOP
| | Bust | Under bust | Length |
| --- | --- | --- | --- |
| XS(6-8) | 33 | 32 | 29 |
| S(8-10) | 36 | 35 | 30 |
| M(10-12) | 39 | 38 | 31 |
| L(12-14) | 42 | 41 | 32 |
| XL(14-16) | 45 | 44 | 33 |
LONG SLEEVE CROP TOP
| | Bust | Under bust | Length |
| --- | --- | --- | --- |
| S(8-10) | 37 | 35.5 | 37 |
| M(10-12) | 40 | 38.5 | 38 |
| L(12-14) | 43 | 41.5 | 39 |
| XL(14-16) | 46 | 44.5 | 40 |
GIRLS BIKINI SET
| | Underbust | Waist |
| --- | --- | --- |
| AGE 6-7 | 63-65 | 57-58 |
| AGE 7-8 | 65-68 | 58-60 |
| AGE 8-9 | 68-70 | 60-62 |
| AGE 9-10 | 70-73 | 62-64 |
| AGE 11-12 | 77-80 | 65-66 |
HIGH WAISTED BIKINI BOTTOM
| | Waist | Length |
| --- | --- | --- |
| S(8-10) | 59 | 29.5 |
| M(10-12) | 64 | 31.5 |
| L(12-14) | 69 | 33.5 |
| XL(14-16) | 74 | 35.5 |
FULL PANT & THONG & Classic bottoms
| | Waist | Length |
| --- | --- | --- |
| XS(6-8) | 67 | 22 |
| S(8-10) | 73 | 24 |
| M(10-12) | 79 | 26 |
| L(12-14) | 85 | 28 |
| XL(14-16) | 91 | 30 |
unsure or can't find your size?
Finding the perfect size and fit is so important when purchasing swimwear. We understand that you need to feel comfortable in your swimsuit, therefore please reach out to us with any questions you may have and we can help recommend the best size as well as offer advice on what we think would best suit your body shape.
If you can't see your size please also ask us as we do offer bespoke sizing.